Indusface has been recognized as a Customers' Choice for 2023 Gartner® Peer Insights™ Voice of the Customer Cloud WAAP Report
Our customers have spoken…  
Thanks to our customers that Indusface has been chosen as the Customers' Choice for the Cloud WAAP (Web Application and API Protection) market in the latest "Gartner Peer Insights Voice of the Customer Cloud WAAP Report" . 
As a product company, we always keep our customers first while building our product. With the right set of innovations, building as per the customer demands & making sure they are secured 24*7; our hard work and smart work have shown results.  
Understand what Gartner Peer Insights 'Voice of the Customer' is: 
"The "Voice of the Customer" is a document that synthesizes Gartner Peer Insights' reviews into insights for IT decision makers. This aggregated peer perspective, along with the individual detailed reviews, is complementary to Gartner expert research and can play a key role in your buying process, as it focuses on direct peer experiences of implementing and operating a solution."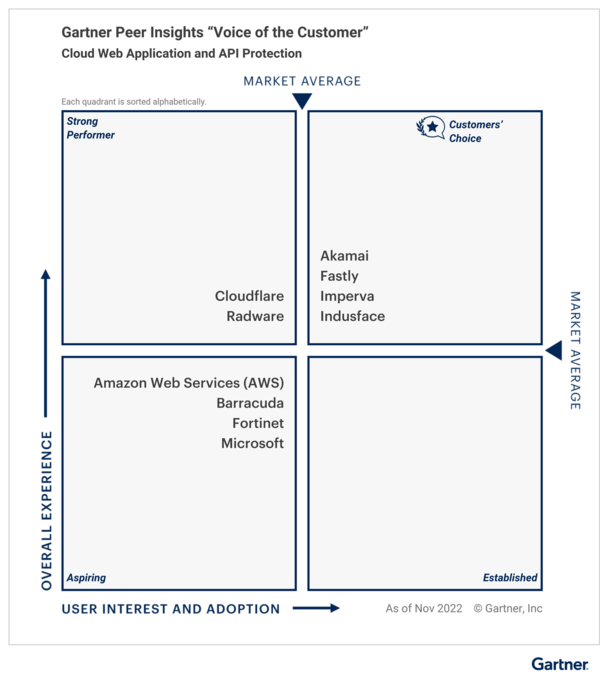 Vendors in the "Voice of the Customer" document are categorized into four quadrants based on User Interest and Adoption (X-axis) and Overall Experience (Y-axis). The "Customers' Choice" distinction recognizes vendors who meet or exceed both the market average Overall Experience and the market average User Interest and Adoption score through Customers' Choice distinction.   
You can download a complimentary copy of the report here.  
Gartner Defines Cloud web application and API protection platforms (WAAPs) as solutions that "mitigate a broad range of runtime attacks, notably the Open Web Application Security Project (OWASP) top 10 for web application threats, automated threats and specialized attacks on APIs. Cloud WAAPs are cloud-delivered services that primarily protect public-facing web applications and APIs. "
We Are

the

Chosen One

s!

 
We're excited to announce that Indusface is the only vendor recognized as
a Customers' Choice with 100% Recommendation Rating for three consecutive years
Gartner Peer Insights Customers' Choice distinctions recognize products and vendors that their customers highly rate. These ratings are based on categories like – product capabilities, sales experience, deployment experience, and support experience. 
The customers who reviewed Indusface for Gartner Peer Insights span a broad range of organization sizes, with annual revenue from USD50 million to USD10+ Billion.  Additionally, the

5-star reviews

include major verticals such as finance, banking, services, retail, and more. 

 
Indusface serves diverse and renowned clientele globally and a sample of end-user reviews submitted includes:  
Thank You  
We are pleased to be recognized by our customers through Gartner Peer Insights Customers' Choice for Cloud WAAP 2023 report. The entire team of Indusface would like to thank all our customers for their continued support. 
Note: 100% "Willingness to recommend" as of Jan 2023 with 89 Overall Reviews, 100% "Willingness to Recommend as of December 2021 with 106 Overall reviews in "Gartner Peer Insights 'Voice of the Customer': Cloud Web Application and API Protection, Published 22 March 2022 and 100% Willingness to Recommend as of March 2021 with Overall 39 Reviews in Gartner, Gartner Peer Insights 'Voice of the Customer': Web Application Firewalls,25th march 2021. 
 Gartner Peer Insights 'Voice of the Customer': Cloud Web Application and API Protection, 30 January 2023
GARTNER is a registered trademark and service mark, and PEER INSIGHTS is a registered trademark , and Gartner Peer Insights CUSTOMERS' CHOICE badge is a trademark and service mark of Gartner, of Gartner, Inc. and/or its affiliates in the U.S. and internationally and are used herein with permission. All rights reserved.
This graphic was published by Gartner, Inc. as part of a larger research document and should be evaluated in the context of the entire document. The Gartner document is available upon request from Indusface.
Gartner Peer Insights content consists of the opinions of individual end users based on their own experiences, and should not be construed as statements of fact, nor do they represent the views of Gartner or its affiliates. Gartner does not endorse any vendor, product or service depicted in this content nor makes any warranties, expressed or implied, with respect to this content, about its accuracy or completeness, including any warranties of merchantability or fitness for a particular purpose.
Stay tuned for more relevant and interesting security articles. Follow Indusface on Facebook, Twitter, and LinkedIn.