Bad Bots Level Up – How to Protect Your Website from Costly Hacks?
Do you know bot attacks are turning from bad to worse? Legacy defenses are showing their age.
We gear up for this year's cybersecurity awareness month with the new challenger – sophisticated bad bots.
25.9% of bad bots are attacking on a complex level avoiding detection methods – Statista
Here is a bot attack trend Indusface AppTrana observed by analyzing across 1200+ sites: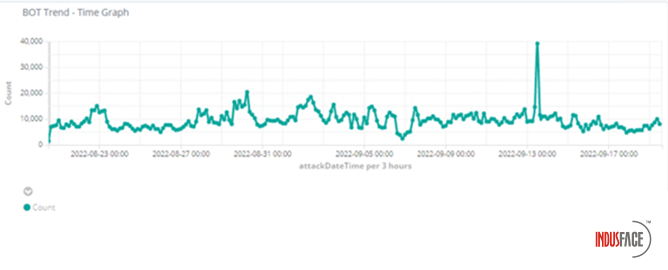 Source: The State of Application Security – Indusface
80% of businesses experienced increased financial losses due to complex bot attacks. Hence, traditional solutions are failing to move the needle. It is time for the right approach: Anti-bot Protection
Bots Are Becoming Complex Every Day
Bot developers always understand the defense solutions and develop methods to get around them.
Bots hide their locations behind millions of IP addresses to abuse. When you block one IP, they can rapidly change their IP address to another. Attackers are also using high-quality residential IPs.
Those IPs have a better reputation. They are less likely to come under detection. Thereby, they have not been stopped with traditional protections like rate limiting and legacy WAFs.
Complex bots can forge their fingerprints to appear like humans. They connect with automated frameworks and headless browsers to avoid detection.
Fingerprints and behavioural signals are the main factors that bot protection techniques use to differentiate bots from a human. But bot developers are using various methods and libraries to mimic human behaviour.
Anti-Bot Protection Changes the Game
Are you still relying on legacy solutions to protect against bot attacks? You are leaving your business with solutions that fail to keep up.
Advanced threat calls for advanced protection!
You need a dedicated bot prevention solution to detect and stop malicious traffic effectively. Here are the features that differentiate an anti-bot mitigation solution from the traditional one:
It doesn't just assess data samples at regular intervals. It continuously processes entire requests across the endpoints. Thereby absorbing the sudden spikes in traffic typically due to bot attacks.
It ensures deep analysis of adversarial methods and traffic patterns. It learns from the data pattern and improves its detection accuracy. It not only involves server-side signals like HTTP and TLS fingerprints. It detects bots with client-side detection techniques like app tracking, user event tracking, and browser tracking.
Anti-bot protection ensures the flow of legitimate traffic. Learning based on threat intelligence it adds business-critical, good bots to the allow list. It also identifies bots that pretend like good bot behaviour with pattern-based signature analysis.
The bot detection solution will have an advanced analytics dashboard. It gives you complete visibility of traffic patterns. You can get reports on:

Types of traffic reaches your site
Bots that visit your site
The frequency of bot attacks
It also helps to gain insight into the behaviour and motivation of attackers.
Enhanced Anti-bot Protection with AppTrana
With comprehensive bot management solutions, you can slow down bad bots.
The analysis highlights that 695 websites experienced a bot attack.  But AppTrana were successfully blocked by AppTrana   With the risk-based approach, you can
Instantly detect and block known and unknown malicious bot attacks on your web apps, mobile apps, and APIs
Dynamically stop hackers' attempts with threat intelligence
Stay one step ahead in mitigating the unavoidable bot threats
Get Started with advanced bot protection today!
Stay tuned for more relevant and interesting security articles. Follow Indusface on Facebook, Twitter, and LinkedIn