Are you an enterprise that collects and stores customer data? Do you outsource key business functions to third parties, entrusting them with customer data?
In either case, you are responsible for data security and privacy. If it fails, you will face irreparable damages. Protect your sensitive information and reputation by meeting SOC 2 compliance standards.
Keep reading to learn more about SOC 2 compliance and how penetration testing helps to meet SOC 2 compliance standards.
What Is SOC 2 Compliance?
The American Institute of CPAs (Certified Public Accountants) developed the SOC (System and Organizational Compliance). SOC offers security audit frameworks for enterprises to safeguard customer data. For instance – SOC 1, SOC 2, SOC 3, SOC for supply chain, and so on.
SOC 2 compliance is an auditing framework for service organizations. It offers a set of guidelines and criteria to meet for robust information security. It seeks to ensure data security and privacy, protecting your organization's interests.
SOC 2 compliance reports offer detailed information on how service organizations fare for data-related internal controls. It assesses how securely service providers manage and protect the data they are entrusted with.
SOC II vs. PCI Compliance
SOC 2 compliance is different from other standards like PCI-DSS. PCI-DSS has hard-and-fast rules, regulations, and requirements. But SOC 2 doesn't offer a prescriptive list of controls, tools, and processes. It only cites criteria to help ensure robust information security.
PCI compliance is compulsory for any entity storing, processing, and transmitting payment cards. SOC 2 is a voluntary standard for service organizations.
SOC 1 vs SOC 2 Vs SOC 3 – What are the Differences?
| | | | |
| --- | --- | --- | --- |
| | What does it cover? | Who needs one? | Intended Users |
| SOC 1 | The report is focused on the controls in place at a service organization that impacts a user entity's financial reporting. | This report is typically used by organizations that provide payroll processing, financial statement preparation, or similar activities that could affect a user entity's financial statements. | The report is intended for use by the user entity's auditors as part of their financial statement audit. |
| SOC 2 | The report focuses on the controls related to security, availability, processing integrity, confidentiality, and privacy. | This report is typically used by organizations that provide cloud computing services, software-as-a-service (SaaS), or other technology-based services. | The report is intended for use by the service organization's customers and other stakeholders to evaluate the design and operating effectiveness of the controls that impact the security and availability of customer data and systems. |
| SOC 3 | The report is a high-level summary of the information in a SOC 2 report. | Unlike SOC 1 and SOC 2, SOC 3 reports are publicly available and can be used as a marketing tool to demonstrate a service organization's commitment to security and control to potential customers. | The report is not intended for use by auditors or customers but to provide a general understanding of the service organization's security and control environment to the public. |
Who Performs SOC 2 Audits?
A service provider obtains SOC 2 certification from external auditors. They examine how compliant the service provider is with the SOC trust principles. They assess the InfoSec systems and processes in place. It covers a 6-12-month timeframe to ensure Infosec measures meet the evolving cloud data protection needs.
Only independent CPAs or accounting firms can perform SOC audits in the US. CPA firms may hire non-CPA professionals with IT and security expertise for auditing. But the CPA must provide and disclose the final reports.
There are professional standards and guidelines for SOC auditors to follow. All SOC audits also undergo peer review. Service organizations can add the AICPA logo to their website after the successful audit.
Importance of SOC 2 Compliance
SOC 2 may be a voluntary compliance standard. But you can't ignore the importance of SOC 2 compliance:
SOC 2 compliance indicates that the service enterprise takes InfoSec seriously
SOC 2 reports offer critical security insights and aid you in internal corporate governance, company risk management processes, and overall regulatory oversight
SOC 2 helps you to select the right vendors and manage them
SOC 2 helps establish trust with customers and stakeholders for technology service providers
SOC 2 compliant enterprises can defend better against breaches and threats
SOC 2 compliant technology providers have the edge over the competition
Why Should SaaS Businesses Prioritize SOC 2?
Of course, SOC 2 compliance is important to all technology services providers that handle and/or store customer data. However, SaaS companies often need to obtain a SOC 2 report to scale their business.
SaaS companies provide their services over the internet, meaning that sensitive customer information is stored and processed in the cloud. This creates unique security and privacy risks that must be addressed.
As a customer of a SaaS company, their data is stored on the company's servers, and they are concerned about the security measures in place to protect their information. SOC 2 provides a means for customers to understand the security practices of the company and receive third-party validation that these practices are not only in place but are also regularly maintained.
Check out this short clip to understand why SaaS startups must upgrade security standards to become SOC 2 compliant:
Click here to watch the complete podcast. 
SaaS companies must consider SOC 2 to build customer trust, meet regulatory requirements, gain a competitive advantage, improve their security posture, and increase efficiency.
SOC 2 Compliance Types
1. SOC 2 Type 1 Compliance
This standard ensures that your vendors' systems and infrastructure are well-equipped to secure confidential information. SOC 2 Type 1 reports consider and attest to the design of your vendor. They assess whether their design and implementation meet relevant trust principles.
2. SOC 2 Type 2 Compliance
SOC 2 Type 2 compliance ensures that vendors have proper controls to ensure data security and privacy. You may also know this as SSAE 16 or SAS 70.
Type 2 reports offer a detailed understanding of the operational effectiveness of these controls. They assess and attest the controls over a minimum of 6 months. The external auditor performs fieldwork over a sample of days within the testing interval. That's why type 2 reports are so thorough.
Comparison of SOC 2 Type1 and Type 2 Reports
| | | |
| --- | --- | --- |
| | SOC 2 Type 1 Reports | SOC 2 Type 2 Reports |
| Duration | Done on a specific date | Done over a 6–12-month period |
| Time period | Completed in 4 months | Completed in 9-12 months |
| Costs | Comparatively less expensive | Cost higher comparatively |
| What is attested? | Only the suitability of the design and implementation are attested | The effectiveness of the controls provided by the vendor is attested |
| Nature | Not very detailed | Detailed and insightful |
| Security Requirements | Minimal security requirements to pass Type 1 compliance | Very detailed security requirements for SOC 2 Type 2 compliance |
Security Practices Critical for SOC 2 Compliance
Security is the most important SOC 2 compliance requirement. It forms the basis of all 5 trust service categories.
The security principle focuses on protecting data and assets from unauthorized access. All SOC 2 compliance requirements are optional, except those under the security category.
Here are the controls that must be addressed to satisfy the external auditor.
Logical and Physical Access Controls
This restricts access to users based on their user group and roles. It prevents unauthorized access and use of data and assets.
System Operations
These controls help you to monitor and manage ongoing system operations. So you can effectively detect and resolve deviations from set organization procedures.
Change Management
IT systems are always in a state of flux. These controls help you to monitor and manage changes to IT systems. They also include methods to prevent any unauthorized changes.
Risk Mitigation
Technology companies face risks from business disruptions and the use of third-party services. Risk mitigation controls include processes for identifying, prioritizing, and mitigating these risks.
SOC 2 compliance is a broad, versatile, adaptable compliance standard. The technical and policy-driven criteria are open to interpretation.
How each enterprise achieves the goals of each criterion by implementing controls is up to them. Every enterprise must select, define, and implement appropriate controls for each category.
Let us take an example of 2 companies. Let's look at how they fulfill logical and physical access control criteria.
Company 1 takes the following approach:
Deploys multi-factor authentication
Installs systems to prevent data downloads
Company 2 takes the following route.
Implement a new employee onboarding process
Restrict physical access to data centers
Conduct quarterly reviews for user permissions and access controls
Monitor production systems
Neither of these approaches is defined in the SOC II requirements. These companies develop them in a business-specific manner. They work because they help reach the end state defined by the SOC criteria.
Trust Service Categories of SOC 2 Compliance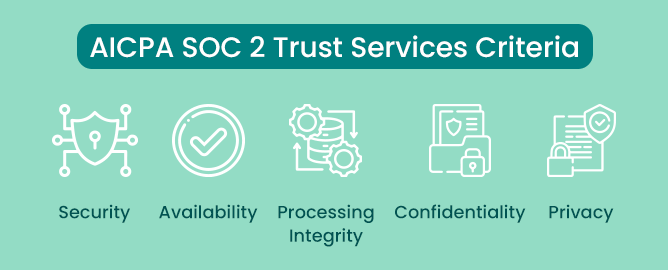 SOC 2 Compliance outlines 5 important Trust Service Categories (TSC) in safeguarding customer data. Trust service categories were formerly trust principles. Let's look at each TSC with some examples of controls to fulfill the criteria.
1. Security: 
This refers to protecting systems, information, and resources from unauthorized access. The auditor may check for the following:
Strict access controls to prevent potential abuse, tampering,  and thefts.
IT security tools to filter illegitimate requests, such as Web Application Firewall and Intrusion prevention systems.
Multi-factor authentication to prevent attackers from engaging in illegal activities such as data exfiltration, data modification and deletion of records.
Factors like IT security hiring policies that indirectly affect security.
2. Availability:
This refers to the availability of systems and services as per SLA stipulations. The key SOC 2 compliance requirements for companies are:
Minimize downtimes
Identify current usage and manage capacity
Identify non-security threats that affect availability. For instance, hurricanes, power outages, flooding, etc.
Both parties define the minimum acceptable performance availability. For instance, you have agreed upon 99.9% uptime in your SLAs. However, your system is only available 99% of the time. Then, the SLA hasn't been met, and your service provider isn't SOC 2 compliant.
Availability does not address functionalities and usability. But it gauges whether infrastructure, software, etc., are maintained securely. So, it includes security-related factors that affect system availability. It assesses and mitigates potential threats that may cause downtimes, affect availability, etc. 
To this end, you can monitor
network performance
uptimes
site failover
security incidents
Disaster recovery and security incident handling are other ways to ensure availability.
3. Processing Integrity: 
This addresses whether data processing systems are functioning as intended. It ensures that data processing operations are complete, valid, accurate, authorized, and timely. It ensures that systems are free of errors, delays, omissions, manipulation, and unauthorized access.
Remember that processing integrity doesn't automatically imply data integrity. It concerns the data processing operations, systems, and their integrity.
To assess processing integrity, you can
monitor processing integrity
implement quality assurance procedures
detect and assess errors
effectively record system inputs and outputs
4. Confidentiality:
This is a key trust principle and a central tenet of data security. Confidentiality means data access is restricted to specific people/ organizations. And these people/ organizations know only information necessary for their role. Here are a few examples of data that must be confidential.
Intellectual Property (IP)
Internal pricelists
Business plans
Customer details
Legal documents
Transaction details
Sensitive financial information
Any other information that must be protected as per regulations, contracts, or agreements
Ways to ensure the confidentiality of information processed/ stored by service partners:
Strong encryption
Robust access controls
Network and application firewalls
5. Privacy: 
This refers to the ability to safeguard all information in the system, including PII. PII
(Personally Identifiable Information) is sensitive, personal details that require extra protection. These include identifiers like name, social security, health details, address, and so on.
Privacy ensures that the partner securely collects, uses, retains, discloses, and disposes of PII. This must conform with 
Organization's privacy policies
AICPA's Generally Acceptable Privacy Principles (GAPP)
Service partners must take solid measures to prevent unauthorized access to such information.
Ways to assure privacy:
Proper communication of policies
Consent for collecting information
Clear data retention and disposal policies
SOC 2 Penetration Testing: All You Need to Know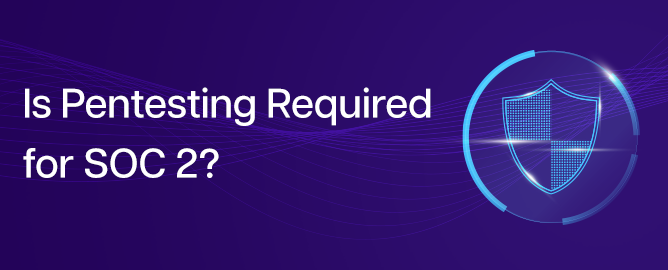 Is SOC 2 penetration testing necessary? Yes, absolutely. It may not be mandated, but it is a critical complementary security measure.
In addition to the TSC, SOC 2 lists individual controls and sub-controls with explanatory points to focus on. SOC 2 penetration testing is mentioned in these points of focus.
CC4.1 suggests that the enterprises perform ongoing evaluations to ensure components of internal control are present and functioning. In the end, management should use evaluations such as
Penetration testing
Internal audit assessments
Independent certifications
CC7.1 suggests that organizations continuously monitor and detect:
Changes in configurations causing new vulnerabilities
Susceptibility to newly discovered flaws
To this end, vulnerability scanning is done periodically and after significant, IT changes. This helps identify and remediate potential vulnerabilities.
How Pen-Testing Helps in SOC 2 Compliance?
As we already know, enterprises design their internal controls for SOC 2 compliance. So, SOC 2 requirements are unique to every enterprise.
External auditors will assess if these controls fulfil the trust service criteria. They will then produce a detailed SOC 2 type 2 report. Pen-testing helps firms to establish a strong security posture.
Pen-testing helps you to detect unknown vulnerabilities and logical flaws that vulnerability scans miss. It also helps to understand the exploitability of all kinds of vulnerabilities.
Pen-tests offer real-time insights into gaps and weaknesses in your architecture. It also tells you if your controls and security defences are working as intended.
This information can then be used to ensure you can meet the security requirements outlined in the SOC 2 standard.
By conducting regular penetration tests, you can demonstrate your commitment to security and ensure that you meet cybersecurity compliance
How To Design a Pen-testing Framework for SOC 2 Compliance?
It requires careful consideration of the specific requirements outlined in the SOC 2 standard and a thorough understanding of the organization's systems and infrastructure.
Identify the scope of the testing – This should include a comprehensive assessment of all systems and applications that handle customer data, as well as any third-party systems that have access to this data.
Determine the types of testing that will be conducted – This may include network pen-testing, web application pen-testing, social engineering, and physical security testing.
Develop a testing methodology – This should outline the steps that will be taken to conduct each type of testing, as well as the tools and techniques that will be used.
Establish a timeline for testing – This should include regular testing intervals, such as annually or semi-annually. Also, additional testing is necessary if major changes are made to the systems or infrastructure.
Define the roles and responsibilities of the testing team – This should include a clear understanding of who will be responsible for conducting the testing, analyzing the results, and creating reports.
Develop a reporting and remediation process –  This should outline the steps that will be taken to document the results of the testing. It also includes any necessary remediation steps that will be taken to address any vulnerabilities that are identified.
Regularly review and update the framework – This should be done to ensure that the testing remains relevant and effective to address any changes in the SOC 2 standard.
Hire a security expert like Indusface to perform SOC 2 penetration testing. A security expert has the expertise, knowledge, and tools necessary to perform comprehensive and thorough penetration testing.
Why choose Indusface for SOC 2 pen-testing?
As a leading application security company, Indusface uses unique vulnerability assessment tools and manual attack tactics to evaluate the effectiveness of your existing security measures.
Indusface Team Edge
Certified Security Experts
Indusface has a team of certified security experts who use the latest tools and techniques to perform comprehensive penetration tests. Their focus is on ensuring that organizations meet security standards, including SOC 2, and maintain the confidentiality and integrity of sensitive information.
Comprehensive findings
Indusface's approach to penetration testing includes a combination of automated and manual testing methods. It provides a complete evaluation of your security posture.
With continuous research and updates obtained from thousands of daily scans, our pen testing team possesses a remarkable ability to discover a multitude of vulnerabilities.  These vulnerabilities go unnoticed by others.
Actionable Report
In addition to their expertise, Indusface provides a comprehensive report of the findings, including recommendations for mitigating security risks. This report can be used as a roadmap for improving your security posture. It helps you to meet your SOC 2 compliance requirements.
Real-world Attack Simulation
Our penetration testing approach involves simulating real-world attacks to accurately assess the security of your systems. By replicating the tactics that a malicious actor might use, we can provide a thorough evaluation of your security posture. Thereby helping you better understand the risks to your systems.
With our real-world attack simulation, you can have confidence in the results of our testing. And take action to improve your security measures. This approach ensures that your systems are better prepared to defend against attacks.
Overall, choosing Indusface for SOC 2 penetration testing service provides you with the expertise, tools, and support you need to secure your systems and maintain the confidence of your customers and stakeholders.