Why Indian CIOs, CISOs need to reconsider their security perspective
INDIA, 26th February 2015: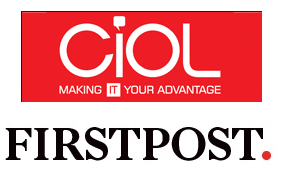 Almost every organisation is extensively using the web to conduct its different business activities. From employee communication to customer interaction, collecting data to making payments – almost all business transactions are moving onto the online platform. While this has made our lives simpler in many ways, it has also made the job of the hackers much easier.  Businesses are losing $3.8mn every year to cyber-attacks; with BFSI, E-commerce and ICT identified as most vulnerable sectors . Indusface highlights the increasing power of these attacks and explains why it is becoming critical for Indian organisations to safeguard themselves against such vulnerabilities.
Sectors most prone to cyber attacks: According to a KPMG Cybercrime Survey conducted in 2014,a startling 58 percent respondents perceivethe financial sector to be the most prone to cyber-attacks, while 11 percent of the respondents suggested that entertainment, communications and infrastructure sectors face the risk of falling prey to cyber attacks. About 8 percent of the respondents suggested that the government sector is prone to cyber attacks. Other sectors, according to the survey, that may fall victim to the cyber-attacks in all likelihood were Consumer/Industrial Markets, Pharmaceuticals and Energy & Natural resources amongst others.
The potential damage they can cause: Over the years, the entire landscape of cyber-attacks has evolved in an unprecedented manner and the intensity and impact of these attacks has only grown. What is of greater concern is the fact that any big scale cyber attack has the potential to damage the businessin multiple ways – from financial losses to disruption of business processes, employee morale, reputational damage and eventually loss of customers,which could have far reaching impact on the future of the company.
Top motives behind such attacks: In order to understand the intensity of cybercrime, one also needs to consider the motives behind such attacks. According to the Cybercrime Survey 2014, illicit financial gain (58 percent) is the prime reasonbehind such attacks. Other motives include unsolicited malicious damage, espionage by competitors or foreign government, usingthe system for further attacks and act of war by other countries to disturb key processes in the society. No wonder, sectors like BFSI are always on the radar of the hackers. The booming e-commerce sector also faces the serious risk due to the rapid growth it has witnessed in recent times.
Why Indian CIOs/CISOs should be worried: With a staggering growth in terms of internet users and IT, India has become the second most targeted country in the world after the US when it comes to cybercrimes. Though this growth seems extremely significant, India for most part of it has been ignorant to the risks involved in cyber-attacks. Most Indian organisations still rely on mere anti-viruses, traditional firewalls and intrusion prevention systems. A Gartner study has recently revealed that 75 percent of the attacks take place on the application layer of a network. These studies highlight how traditional firewalls fail to provide elements like web attack signatures, web vulnerability signatures and automatic policy learning.
The KPMG survey also emphasises the increasing incidents of cybercrime in India and reveals that 49 percent of Indian companies surveyed have already faced such attacks. That is why CIOs and CISOs in India need to reconsider their security perspective and should focus on a more holistic approach built around total application security that comprises of vulnerability detection system to scan and report threats with 24/7 continuous monitoring, along with Web Application Firewall that can defend from exploitations by virtually patching all vulnerabilities at the application layer.
Read more: Click here
News Sources:
http://www.firstpost.com/business/indian-cios-cisos-need-reconsider-security-perspective-2122951.html
http://www.ciol.com/businesses-are-losing-3-8mn-every-year-to-cyber-attacks/