The All-New Executive Dashboard for AppTrana
W. Edwards Deming has rightly said –
Without data, you're just another person with an opinion.
Without insight into data, executives make decisions based on instinct, prejudice, speculation, or prevalent theory. Executives are at risk of acting on biases or false assumptions. This often leads to wrong decisions and thus, affects the business at all levels.
So, all that executives want is –
The Right Data at the Right Time to Take the Right Decision
Introducing the All-New Executive Dashboard From Indusface for AppTrana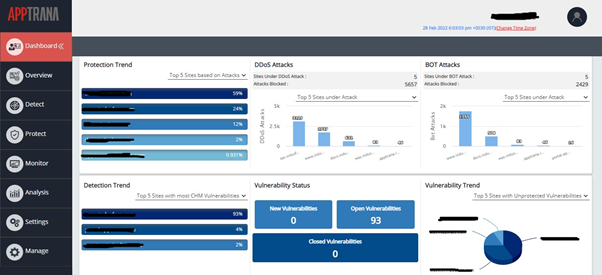 Save Time and Improve Decision Making
The objective of this dashboard is to provide executives with the summary of the account while providing all the necessary information to make fast and accurate decisions.
This dashboard will provide a brief about all the components of AppTrana WAF (Web Application Firewall) without breaking a sweat!
The Design – Aesthetic & Easy-to-Use Interface
Visible At a Glance
As an executive, your primary task would be to understand every security detail to simplify your decision-making and strengthen your security posture. All the necessary data is encapsulated in an easy-to-use interface which makes it easy-to-understand complex and technical data at a single glance.
Get Recommendations
You would always want to know how secure are your applications – "have I done everything possible to keep my applications secure?" but it is not always easy to know what more should be done,
You need not worry about it anymore!
You can find the necessary recommendations based on best practices which when acted upon will ensure your application is secure.
Each of the following tabs has the appropriate filters to present accurate and required data in the form of numbers, percentages, and graphs. All of this is accessible with a single/few click(s).
The Components – Simplifying the Complexity In Security
Protection Status
Action Centre
Trends –

Total Attacks Blocked
Attacks Blocked By Custom Rules
Total Vulnerabilities Detected
Total Data Transfer
WAF Rules Created
Custom Rules Created
POC Requested
Scans Completed
Manual Pentesting Requested

Protection Trend
DDoS Attacks
Bot Attacks
Detection Trend
Vulnerability Status
Vulnerability Trend
Bandwidth Trend
CDN Status
CDN Trend
Account Overview
License Usage Details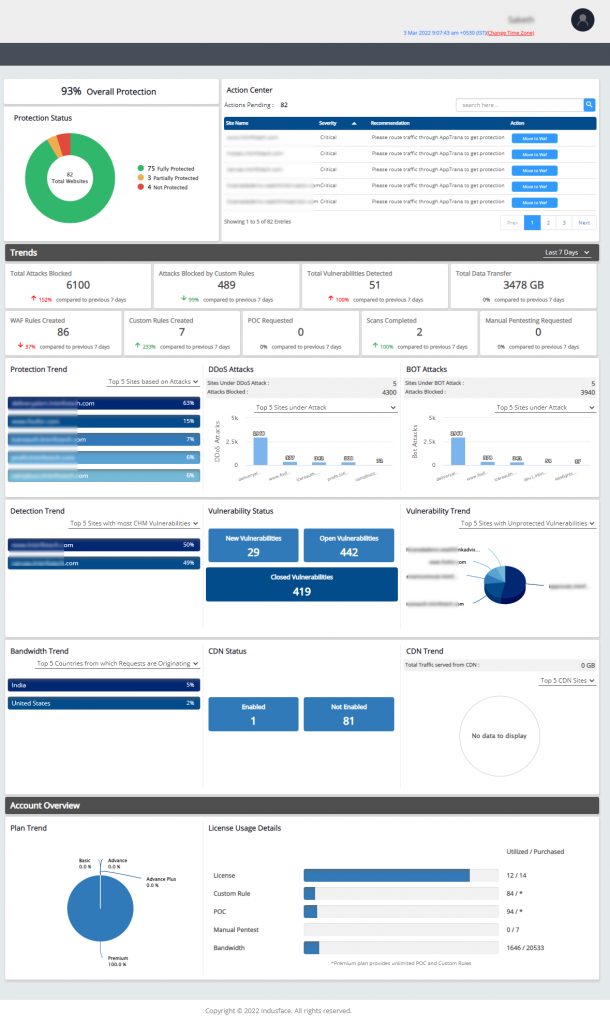 Note – All the data in the executive dashboard will be shown for active sites in the account.
Existing Users –
To know more about this AppTrana's executive dashboard feature, visit: https://docs.indusface.com/product-user-guide-apptrana/executive-dashboard
Potential Users –
To know more about how AppTrana WAF can help secure your business, register here for a free trial.
Found this article interesting? Follow Indusface on Facebook, Twitter, and LinkedIn to read more exclusive content we post.