Indusface is the Only Vendor To Be Named Gartner Peer Insights™ Customers' Choice in All the 7 Segments of Voice of Customer WAAP 2022 Report
As a product company, we have always taken the customer-first approach. We have innovated better, toiled hard, and today, all our hard & smart work has borne fruits.
The King Has Spoken!
As we know, Customer is King.
And, thanks to this King that Indusface has been chosen as the Customers' Choice for the WAAP (Web Application and API Protection) market in the latest Gartner Peer Insights 'Voice of Customer': Web Application & API Protection (WAAP) report.
The Chosen One
We're excited to announce that Indusface is the only vendor to be recognized as a Customers' Choice in all the following segments and get a 100% Recommendation Rating for the second year in succession.
Global
Asia Pacific
Europe, the Middle East and Africa
North America
Large Enterprises
Mid-Market Enterprises
Services Vertical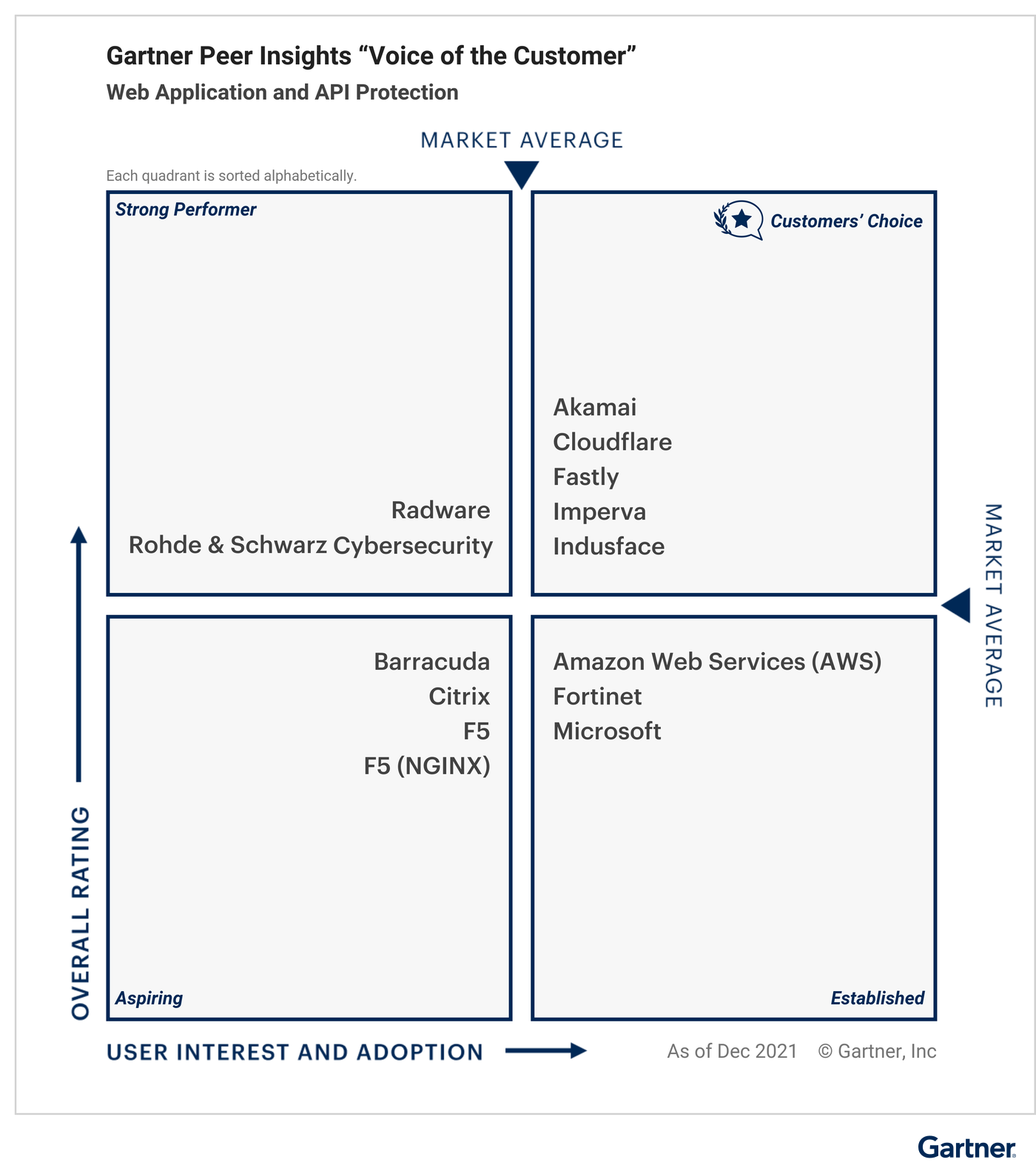 All vendors are classified under specific quadrants based on their "overall rating" and "user interest and adoption."
The "Customers' Choice" quadrant represents the highest overall rating and maximum user interest and adoption.
You can download a complimentary copy of the report here.
What is Gartner Peer Insights 'Voice of the Customer'?
The "Voice of the Customer" is a report that aggregates Gartner Peer Insights' reviews into insights for IT decision-makers. This aggregated peer perspective plus the individual detailed reviews is complementary to Gartner's expert research and plays a key role in your buying process, as it focuses on direct peer experiences of implementing and operating a solution.
Only vendors with 20 or more eligible published reviews during the specified 18-month submission period are included in this yearly report. Find the detailed methodology here.
Note: Reviews from end-users of companies with less than $50M in revenue are excluded from this methodology.
Indusface serves diverse and renowned clientele globally and a sample of end-user reviews submitted includes:
Thank You
We are pleased to be recognized by our customers through Gartner Peer Insights Customers' Choice for WAAP 2022 report. The entire team of Indusface would like to thank all of our customers for their continued support.
Cheers!
For more information on the Indusface WAAP reach out to us here, and for a free trial of Indusface products, sign up here.
Gartner Peer Insights 'Voice of the Customer': Web Application and API Protection, March 22, 2022
Gartner® and Peer Insights™ are trademarks of Gartner, Inc. and/or its affiliates. All rights reserved. Gartner Peer Insights content consists of the opinions of individual end users based on their own experiences, and should not be construed as statements of fact, nor do they represent the views of Gartner or its affiliates. Gartner does not endorse any vendor, product or service depicted in this content nor makes any warranties, expressed or implied, with respect to this content, about its accuracy or completeness, including any warranties of merchantability or fitness for a particular purpose.
This graphic was published by Gartner, Inc. as part of a larger research document and should be evaluated in the context of the entire document.
Found this article interesting? Follow Indusface on Facebook, Twitter, and LinkedIn to read more exclusive content we post.