How Managed Security Services Secure Your Organization?
To keep up with ever-evolving hacking techniques and cyberattacks, businesses need to leverage robust security measures to defend their data from theft and unauthorized access. Unfortunately, several businesses, especially SMBs are unable to implement it due to their limited budget, security personnel, and expertise.
If you're facing the same challenges, then opting for managed security solutions proves to be advantageous.
According to a report "Managed Security Services Market" published by Markets and Markets, the market size of managed security services is projected to rise from $31.6 billion in 2020 to $46.5 billion in 2025, at a CAGR of 8% during the prediction period.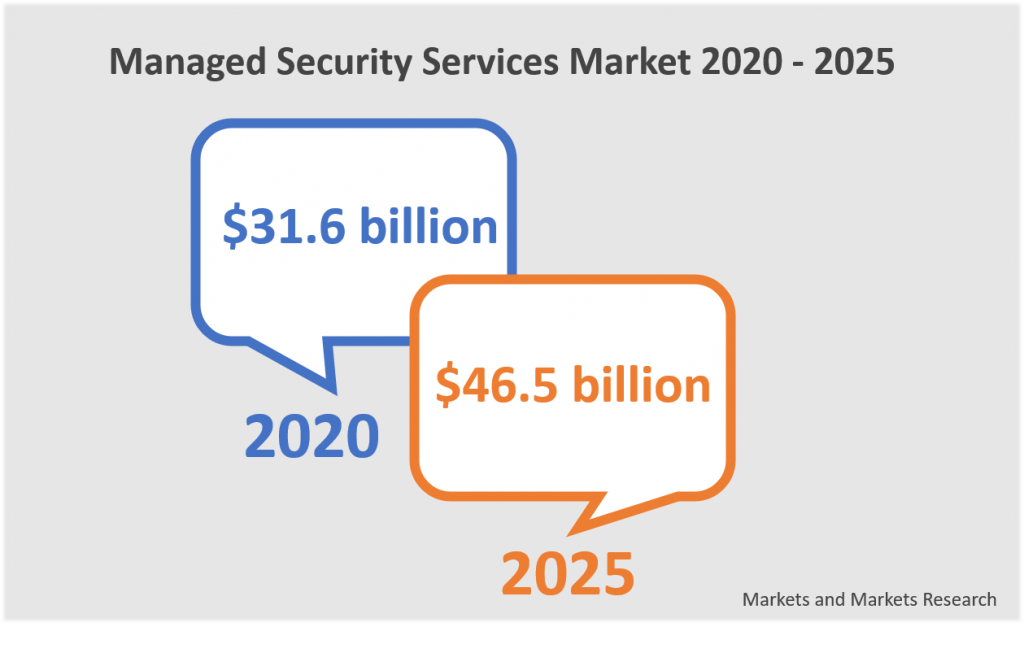 This anticipated growth witnessed the requirement to adopt vital steps in advance for defending the overall security posture.
What Does Managed Security Services Mean?
As businesses in this age are increasingly relying on cloud technology and sensitive data, the requirement for 24/7 system monitoring is increasing. Managed cloud security solutions offer this round-the-clock monitoring and ongoing cyber risk management supports.  The third-party security service providers conduct security service either, in-house or remotely via the cloud. Enterprises are choosing to work with managed security service providers (MSSPs) for various reasons, including decisions driven by a lack of expertise or resource or the requirement for continuous security monitoring as well as management. In some cases, the business will hire MSSPs to conduct cybersecurity audits. Typical duties of security services providers include, but not limited to:
Vulnerability assessment and system monitoring
Penetration testing
Intrusion detection
Security event correlation
Patch management
Security and compliance audits
Day-to-day security management
Next Generation web application firewall
Alerting, threat intelligence, incident response, and other functions
What Is the Difference Between MSP and MSSP?
When searching for talents for your company's security requirement, you might come across the terms MSSP (Managed Security Services Providers) and MSP (Managed Service Provider). While they both sound similar, there are blurred lines between MSP and MSSP.
An MSP focuses on network and IT support & services like Software as a Service (SaaS) and managed telecommunication (Telco) platforms. An MSSP, on the other hand, focuses primarily on offering security services like incident response and round-the-clock security monitoring.
The real differences between MSP and MSSP are:
MSP
MSSP
Primary Focus

 

IT Administration
IT Security
Function
Ensures easy access to IT system
Ensures IT system security
Security Practice
Offers bud fixes & updates after risk detection
Predicts, monitors, and analyzes risks and offer solutions
Management
Deals with network design, system administration and threat fixing
Deals with all security tasks. Alerts the threat occurrence and recommends remediations.
Risk analysis
Rather than analyzing the risks, aids to avoid threats by offering updates and patches
Highly focuses on risk analysis and prevention of exploitation
Level of Security
Basic
Advanced
Benefits of Hiring a Managed Security Service Providers
1. MSSPs Possess Extensive Experience and Cybersecurity Knowledge
Managed security service providers have in-depth knowledge on the most common as well as top-notch cybersecurity issues that most businesses experience. The extra experiences they gained from handling security problems for other companies across different domains make them more adaptable and flexible. You can instantly gain benefit from the knowledge and experiences acquired by MSSPs over several years.
2. Taking Advantage of Advanced and Leading Technology
Almost every business has implemented in-depth security measures, but even the best-of-breed technologies have some gaps, which need to be addressed to have a bulletproof solution.
Premium managed security solutions go beyond just implementing their own technology to manage your security posture. They obtain data and reports from a wide range of sources and normalize the data so that it can be used proactively to uncover threats as well as eliminate vulnerabilities. Further, they also use technologies to evaluate organizational security posture, report gap analysis, system controls, and critical vulnerabilities, which are often used by cyber attackers to intrude even the most secure enterprises.
3. Continuous Real-Time Monitoring and Fast Incident Response
For businesses handling a large amount of sensitive information or proprietary data, detecting a breach, after the incident can ruin the business. Managed security solutions are not just spot inspections; they're constant. With continuous monitoring, they can spot disturbances as they happen. They even test the strength of the firewall with a combination of manual and automated penetration testing.
By constantly observing malware and hacker behavior, they can even gain insight from unsuccessful breaches and use that data to defend vulnerable parts of your system. Further, they can respond immediately to the intrusion to secure stolen data.
4. Reduced Alert Fatigue
One of the most significant benefits of managed security services is zero false positives. Every day, security professionals deal with countless cybersecurity alerts originating from a variety of security tools deployed within their organizations. In some cases, the alerts are often unusable or do not have the proper information to take action. This kind of false-positive increases the possibility that the actual threat will go unnoticed.
However, if your managed cloud security provider sends you an alert, it is hardly ever unusable or redundant. Therefore, MSSPs offer solutions, which avoid situations where you receive endless alerts while increasing response efficiency.
5. Properly Meet Compliance Requirements
Consumer privacy laws and regulatory environments are constantly changing and combine with evolving security requirements make a challenging environment for your enterprise to succeed. It is critical for every business to monitor their compliance level for regulatory purposes across HIPAA, PCI DSS, SOX, GLBA, ISO, FISMA, and others. A major benefit of using managed cloud security service is having expertise in risk management as well as compliance programs. They not only perform the on-demand cyber audits, but they also concentrate on improvements in existing and emerging privacy laws. MSSPs recommend proactive tips to help your business achieve compliance quickly.
Key Trends in MSSP
Though there will be a rise in demand for Pure play MSSP players, one of the key trends that are taking shape and becoming a must-have in 2021 is
Product-specific managed services are expected from the product vendors themselves instead of from pure-play service providers
The managed security services and delivery are evaluated as a key component of the overall security product offering besides just feature capabilities
Some of the key reasons for this trend are, security requires special expertise, and the management capabilities are best provided by the OEM vendors around their product. The pure-play MSSP will still have a role to play to provide overall managed security services offering managing multiple products and they themselves drive and demand more managed components of the managed services from the OEM vendors they partner with.
Indusface Complete MSSP Cybersecurity
Indusface is one of the pioneers driving this trend and includes a fully managed offering as part of its product offering.
Our fully-managed Web Application Firewall, AppTrana, offers virtual patches, configuration changes, vulnerability assessment, strengthening, false-positive monitoring, custom rules, and request for proof of concepts on automated vulnerability findings, along with on-demand manual security assessment of the application. With the deployment of intelligent cloud-based WAF by certified security experts, we assure our results are truly actionable without any false positives.
The Closure
Considering the increasing number of IT security threats, it is crucial to have robust security solutions to protect your assets. If you are lacking in security, consider MSSP. These are the main benefits of managed security services that you gain when partnering with an MSSP.
A premier security service provider will go even further, guaranteeing security and success in ways that you may not even be aware of. The biggest benefit of hiring a managed security service lies in the PEACE OF MIND!