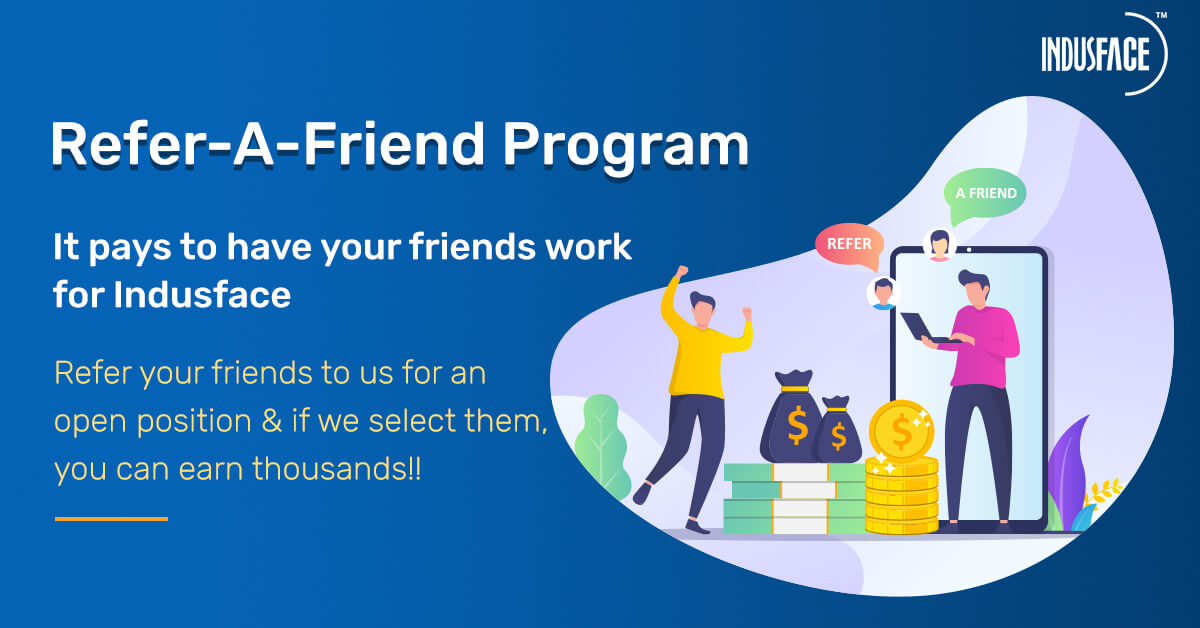 Here's how it works
1. Exciting, Energetic, Enterprising and Evolutionary

Visit www.indusface.com/career.php and review all the current openings to find out if you can refer someone you know.

2. Ask your friends if they're interested

Reach out to your connection/friends and see if they are looking for exciting work opportunities. Refer then to Indusface, the #1 Application Security Product Company of India.

3. Drop us an email

Ask for your friend's / connection's update resume and email it to us at jobs@indusface.com along with your name, phone number and email address. Please do make sure that the subject of the referral email is "Indusface Refer-a-Friend Program".

4. Get paid

If we select your referral, 50% of the referral amount will be paid to you on completion of three months from the date of the candidate joining and the balance 50% on completion of a total of six months from the date of the candidates' joining.
| Position Offered | Referral Amount (INR) |
| --- | --- |
| Executives, Engineers, Analyst, Junior, Associates, Developers | 10,000 |
| Sr. Executives, Sr. Engineers, Sr. Analyst, Sr. Developers , Managers, Heads, Leads | 15,000 |
Get started today.
Terms
The Referrer declares that due consent has been obtained from the candidate referred, to refer his/her contact details to Indusface to contact.
Tax liability arising from the Referral Program, if any, will be solely borne by the Referrer/Candidate.
Referral amount is non-transferable and non-replaceable.
The participation in the referral program is voluntary and by participating in the referral program, you are deemed to have read, understood and accepted these terms.
Any contribution of resume under the Indusface Refer - A - Friend program needs to be made vide an email it to jobs@indusface.com along with your name, phone number and email address. Please do ensure that the subject of this email is "Indusface Refer-a-Friend Program" for the contribution to be considered valid under this program.
If any of the referred candidate under this program has already applied for an opening at Indusface or has already been contacted by Indusface through its recruitment team / other internal referring employees, then Indusface will have the right to reject any such submission and claim under the Indusface Refer-A-Friend Program and the referrer shall be duly informed by Indusface.
Indusface reserves the right to and may, at any time, without previous notice and from time to time, modify/withdraw/suspend this Referral Program, with or without any reason, though all eligible payments towards referrals will be honoured on a timely manner.
If the referred candidate resigns or is being terminated before the completion of three months, you won't be eligible for any referral bonus. If the candidate leaves the organization before completing six months, referrer will not be eligible for the remaining 50% and pending referral bonus