Why Companies Should Care about Data Privacy?
Last Modified :
Data Privacy Day is here and it reminds us – businesses, organizations, and individuals – the need to think Privacy First and of the distance that we need to cover for establishing data protection and privacy.
In this article, we discuss in detail why data privacy is a pressing concern especially for businesses, and some best practices to ensure the highest levels of privacy protection.
Understanding Data Privacy
Data privacy is essentially about handling all data/ information related to a person/ entity's identity (such as name, passport number, social security number, biometric records, financial information, etc.) with the utmost respect for confidentiality and anonymity. Examples of such data:
Why Should Companies Care About Data Privacy?
It is no news that we are generating several quintillions of data every day. It is almost a given these days for businesses to leverage data for a range of purposes across the organization. The challenge is to strike a balance between the use of personal data for business purposes with the individual's right to privacy. With the ever-increasing number, frequency, size, magnitude, and sophistication of data breaches, privacy protection of data is emerging as undeniably one of the most pressing and defining concerns of the modern digital era; a concern that is starting to extend beyond the IT and cybersecurity spaces.
"New day, new data breach", shows how far behind businesses, even the most tech-forward ones like Facebook and Yahoo, are in terms of fulfilling data privacy obligations towards the individuals – customers/ users/ clients, employees, vendors, partners, etc. Even when businesses are using personal data with the permission of the individuals in question, as mandated by privacy laws, there is a gross violation of customer/ employee/ stakeholder trust when data breaches occur along with the violation of the privacy protection laws such as GDPR, HIPAA, CCPA, etc.
Organizations often think that they need not bother about data privacy if there is no legislation in this regard in their country/ region. Every company, irrespective of its nature, location, or size, must take action immediately, make the right investments, and fortify its security posture and privacy protection as governments/ courts may not wait for legislation. Take Facebook's example – they were slapped a USD 5 billion fine in February 2019 by the US Federal Trade Commission (FTC) for failing to protect customer data from third parties.
GDPR Fines by country at a glance – the world's toughest data protection law: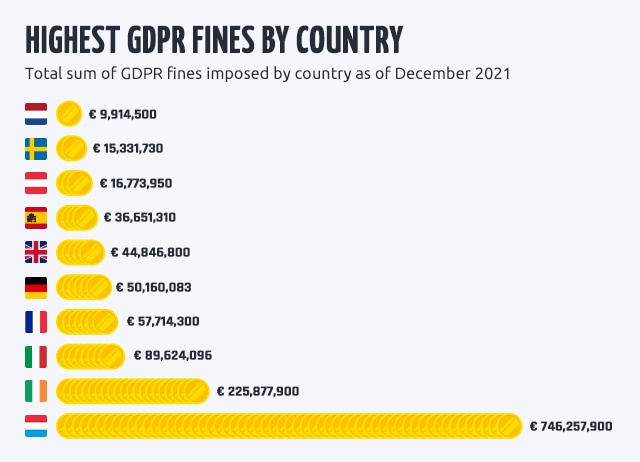 Image Source: eqs.com
The cost of data breaches and breaches of data privacy are hefty. There are, of course, financial costs such as fines, class-action lawsuits, loss of productivity, escalation costs, etc. But there are heavy reputational losses owing to the erosion of brand image, customer trust, loyalty, goodwill, etc. Larger organizations, with the resources at their disposal, may be able to resurrect themselves from such losses but many small and medium organizations are unable to make a comeback and often shut down.
Improving Data Privacy
Unlike other assets and resources, data is scattered within and outside the organization's boundaries. So, ensuring data privacy and protection is no easy task. Simply increasing investments or buying an expensive security solution do not make the cut; there needs to be a company-level compliance program with well-documented KPIs that is embedded in the company's culture. Steps must be taken to improve the granular architectural control of data by focusing on three important components of the organization's culture – people, processes, and technology.
Indusface GDPR Data Processing Addendum – Now Part of Service Terms
People-Related Best Practices
Fully interview, educate and sensitize all stakeholders, internal and external, who have access to and use corporate data be it, customer data, employee data, or partner data.
Continuously communicate changes or reviews made to compliance policies, standards, practices, and laws to all internal and external stakeholders and ensure that they are making requisite changes to the workflows.
Educate, educate, and educate everyone in the organization, whether they work with data or not, to help them understand the importance of data privacy and protection. Help them understand the role they play in keeping the security posture strong and the steps they need to take to ensure they are not compromising the security of the company's data or IT architecture.
Build trust with customers and other stakeholders by being transparent about not just how data is used, but also of major privacy failings and how the company plans to rectify the situation.
Process-Related Best Practices
Build a fully transparent system where you have a 360-degree view of how data flows within your company. Using a track and trace program for your corporate data, you will be able to document points of access, modification, distribution, etc.
Design a robust security strategy that enables you to monitor workflows, secure risky points of access, modification, and distribution of data, and gain control of data storage and backups.
Technology-Related Best Practices
Use an intelligent data discovery and classification tool to automate the task of data tagging, segmentation and improve traceability of data
Implement a robust multi-factor authentication system across your organization
Minimize data security risks by ensuring data is encrypted in transit and at rest
Implement an effective Data Leakage Prevention (DLP) solution and enforce data retention policies strictly
Use a WAF solution in blocking mode to prevent hackers from stealing sensitive data by exploiting your Internet-facing Web applications
It is not too late to begin your data privacy protection journey. Use the best practices outlined above to become an ethical, responsible, and trustworthy steward of data.