How to Boost Cybersecurity in Fintech and Banking?
Globally, fintech firms saw 2.5 times more attacks in Q1 2022. The BFSI industry is prone to cyberattacks every day.
Fintech firms carry some vital data. Cybercriminals know it. They aim to exploit your system's flaw to access the data. The worst part is they will use it for financial fraud.
A successful data breach causes penalties and reputation losses. It scares away your customers. It is even motivating cybersecurity in Fintech.
How do you make a secure financial platform? What can you do to defend your business? Explore BFSI cybersecurity best practices here.
What's Changed Cybersecurity in Banking and Finance?  
Cybersecurity in the BFSI has become complex. Customers prefer digital banking. 78% of Americans prefer digital banking via mobile apps.
To stay competitive, fintech firms are shifting to digital. Their digitalization market size will reach $29.97 billion by 2025. 
Their security landscape is also changing. The cyber threats against BFSI are witnessing a surge.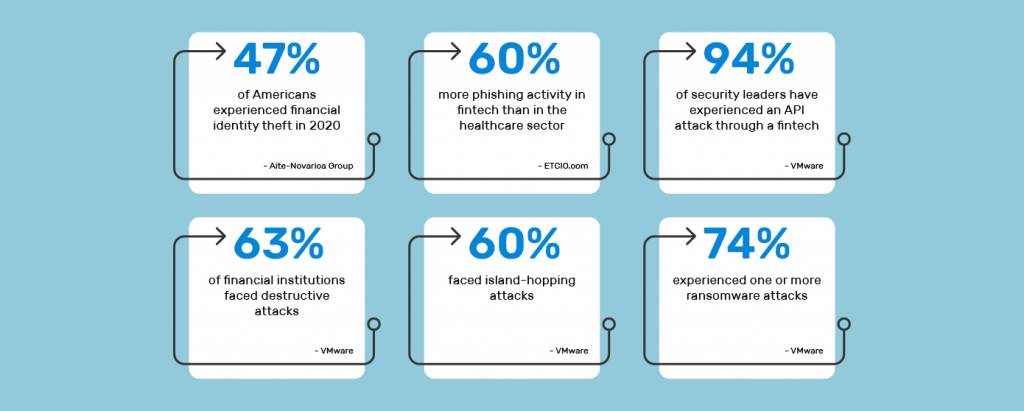 How to Boost Cybersecurity in Fintech and Banking? 
1. Create Robust Security Policies 
Formal policies offer a solid foundation for your risk management. When developing your security policies, consider these factors:
Set clear goals, objectives, and expectations

Choose and implement security frameworks

Define security processes, procedures, and tools 

Craft best incident response & disaster recovery plans

Establish roles and responsibilities 

Continuously monitor security risks

Focus on building cyber resilience 

Update policies regularly
2. Leverage AI, ML, and Analytics 
Advanced technologies are playing a critical role in cybersecurity in Fintech. AI, ML, and analytics aid in proactive threat detection. Moreover, they ensure faster analysis of large volumes of data.
So you can detect, predict and prevent the following threats in real time:
Financial frauds 

Known security threats 

Emerging risks

Unauthorized data access and usage 

Anomalous activities 
3. Implement Secure by Design Policies 
All financial apps, APIs, and websites must be secure by design. To this end, 
Integrate security into the early SDLC stages 

Choose specific frameworks, libraries, and components 

Continuously test and fix code in the early stages

Patch all vulnerabilities before the release  
4. Continuous Threat Monitoring 
Attackers don't take breaks or sleep. BFSI is the key vertical continuously under attack. Monitor your architecture for threats 24×7. Don't rely on traditional signature-based detection techniques. 
To detect and stop complex threats, use the following:
Global threat intelligence

Contextual awareness 

Custom rules 
Centralized visibility is vital for threat monitoring. Real-time alerts and triggers help you to improve cybersecurity in fintech.
5. Proactive Vulnerability Management
Vulnerabilities provide easy entry points for attackers. Identify, assess, and prioritize vulnerabilities. Simultaneously focus on minimizing the attack surface. Protect your susceptible endpoints before attackers do. 
6. Enforce Zero Trust 
No one should have unverified access to your critical assets. This helps prevent
Insider threats 

Brute force attacks

Privilege escalation

Data theft
Strictly enforce role-based, least-privilege access to stakeholders. Additionally, implement strict password and MFA policies. Use encryption to protect sensitive data and passwords.
7. Manage Third-Party Risks Effectively 
BFSI sectors must use third-party components, services, and APIs. With the growing instances of supply chain attacks, you can't ignore 3rd party risks. In addition, always choose partners after thorough vetting. Be sure to check their expertise in the BFSI industry. 
8. Don't Ignore Robust API Security 
API risks and AppSec risks are different. With the growing use of APIs in the BFSI sector, you must manage API risks. Add managed API protection to boost your API security. It plays a vital role in cybersecurity in the banking and finance sectors.
9. Maintain Ransomware Resistant Backups 
Ransomware attacks increasingly target financial institutions. The best way to avoid paying the ransom is to have a backup. If you are under attack, you can recover with backups.
To this end:
Keep secure backups in an offline location

Increase backup frequency 

Use immutable storage 

Integrate anti-malware protection into backup servers
10. Create a Culture of Cybersecurity 
Phishing is a popular method to breach banking security. You must prevent the exploitation of human errors. Create a strong cybersecurity culture within your organization. To achieve this:
Ongoing employee awareness is imperative 

They must know what to click and what not to

They should know what to report and to whom if something is suspicious
Follow these best practices to boost cybersecurity in fintech. Invest in fully managed, multi-layered, and comprehensive security solutions like AppTrana. Stay away from costly data breaches!
Stay tuned for more relevant and interesting security articles. Follow Indusface on Facebook, Twitter, and LinkedIn.