627% Growth in Unethical Hacking Urges Indian Government to brisk up Security Measures
The rising trend in cyber-crimes against Indian establishments has urged the Government to toughen its stand. The Centre has ordered security auditing of the entire IT infrastructure of the central and the state governments.
It has been observed that most of the cyber-attacks have been originating from countries including Pakistan, China, UAE, US, Turkey, Brazil, Bangladesh, Algeria and nations in Europe.

The alarming percentage growth in major cyber-crimes is really a point of concern to the Indian Government.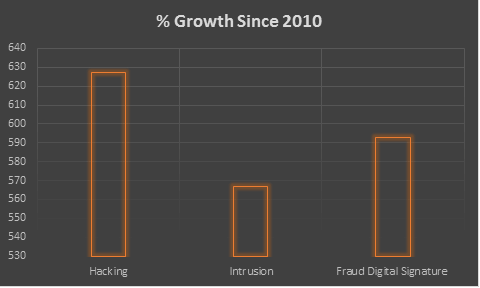 The Indian Computer Emergency Response Team (CERT-In) reported 13,301 incidents of a web security breach in 2011, which grew to 22,060 in 2012, and to 71,780 incidents in 2013. So far this year, 62,189 units have been reported. These incidents included phishing, scanning, spam, malicious code, website intrusions, etc.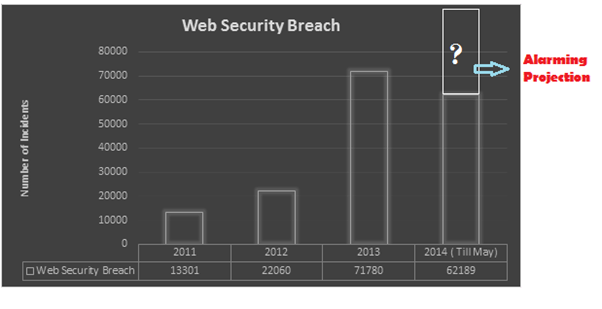 21,699 websites were hacked in India in 2011, which grew to 27,605 in 2012 and 28,481 in 2013. In the five months of 2014, a total of 9,174 hacking incidents have been reported so far.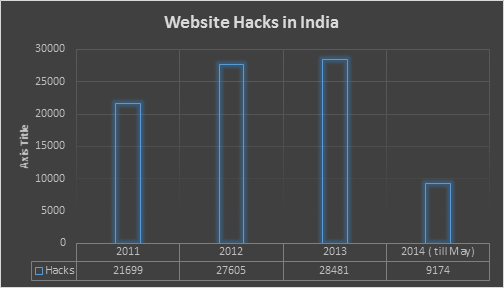 As per the cyber-crime data maintained by the National Crime Records Bureau, a total of 1,791 cases were registered in 2011, which grew to 2,876 cases in 2012, and to 4,356 cases in 2013. Within these, there has been a spurt in cyber-crimes where cases were registered under the Indian Penal Code. According to the National Crime Records Bureau (NCRB) data for 2013, the year saw a jump of 122.5% in cyber offenses over 2012. Hacking formed close to 60% of all cyber offenses.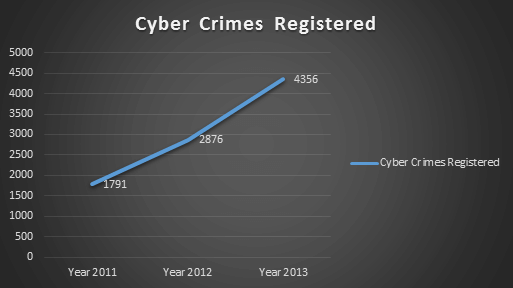 The home ministry has issued an advisory to state governments on cyber-crime. State governments have been advised to build adequate technical capacity in handling cyber- crime including technical infrastructure, cyber police stations and trained manpower for detection, registration, investigation and prosecution of cyber-crimes. The government has also initiated steps on development of cyber forensics tools and for training police and judicial officers in these so that the digital evidence can be presented in courts.
Indusface is an award-winning, innovative information security company, trusted by fortune 500 organizations across the globe which helps safeguard websites and web applications using its flagship product Indusface. Indusface caters to over 600 customers worldwide from different industry domains i.e. Banking, Financial, Insurance, Government, Pharmaceutical, Information Technology / Security, Telecom, Power / Infrastructure, Oil & Gas, etc. Indusface provides organizations with a complete suite of comprehensive application security solutions to protect their web and mobile applications from online attacks and assist them in meeting the standards set by compliance regulators. Indusface has been impaneled with CERT-IN as one of the top information security auditors in the country.
Stay tuned for more relevant and interesting security articles. Follow Indusface on Facebook, Twitter, and LinkedIn.